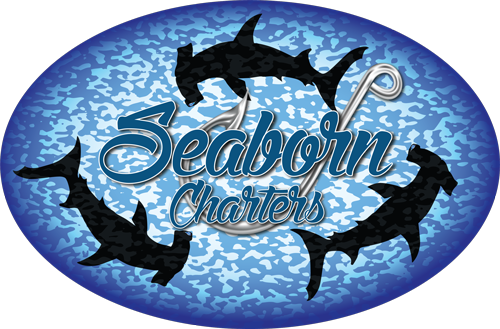 FISHING TRIPS| Seaborn Charters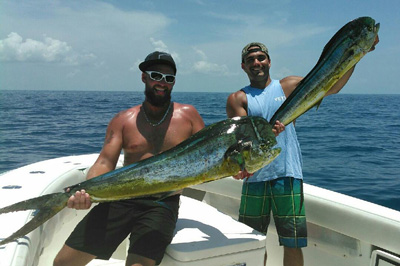 Fishing the deep blue waters of the gulf stream is an awesome experience! You're fishing for mahi mahi wahoo, tuna, a variety of billfish – including blue and white marlin, sailfish ,spearfish and swordfish. You may also encounter large pods of spotted, spinner or bottle nose dolphins, huge leatherback turtles and the occasional pilot or sperm whale. Let me tell you, there is nothing like watching a mahi mahi or a billfish jumping clear out of the water at high speeds, or a wahoo taking line at 65 mph! All billfish are catch and release with mahi tuna and wahoo being excellant table fare. Captain Jason will point you in the right direction to have your fish prepared at our local restaurants.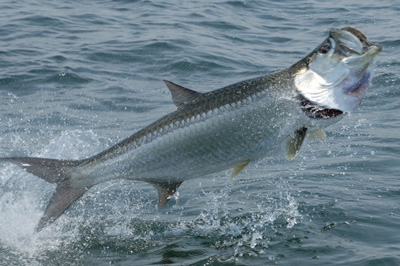 Tarpon fishing in Key West is some of the most exciting fishing you can do! The tarpon or "silverking" is a very fast high endurance fish that jumps alot and is known for cutting lines and breaking hooks. These fish average anywhere from 40-150 lbs with whoppers up to 200 always a possibility. Captaion Jason is an expert at finding and catching these fish all around Key West, knowing which tide and spots are producing the best. Chumming with mahara or herring is the most common method, but we use live bait, plugs and even fly gear. Snapper, cobia, grouper, mackeral and barracuda are also common catches while targeting tarpon.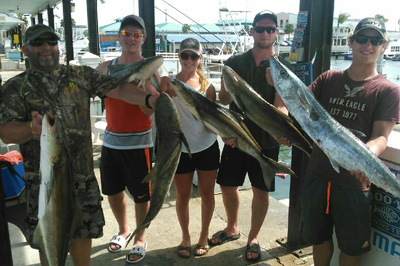 Seaborn charters is one of the few Gulf of Mexico federally permitted vessels in the key west fleet. This allows us to access literally dozens of wrecks and shrimp boats that range further from shore. Fishing the gulf is fishing around wrecks, rockpiles, jettys or any other structure. The gulf hosts a wide variety of species. You can catch Goliath grouper, sharks of all sizes, cobia, king mackerel, permit, barracuda. We anchor over the structure and chum for the fish. Mangrove, lane, mutton and yellowtail snapper are a sure bet. Having the ability to fish either the gulf or Atlantic assure a calm water trip whatever the wind is.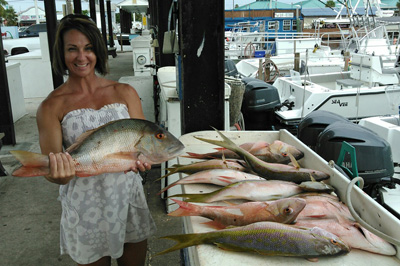 Patch reefs are small patches of coral heads that dot the ocean floor of the 5 miles between Key West and the Barrier Reef. Lots of yellowtail, mangrove, mutton, lane snappers, porgies, grunts, black and red grouper are all fantastic dinner fish. You can also catch cero, Spanish and king mackeral, cobia, barracda (some are trophy size!), jack crevalle and sharks of all sizes. This is a calmer water, high action trip — great for anglers that like constant action with a good chance at a big one!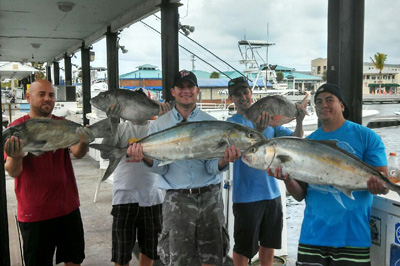 Fishing the deep wrecks of the Atlantic can be an arm stretching good time! The wrecks we fish are anywhere from 80 to 310 feet deep, using live bait as the primary method and sometimes jigging. We either drift or anchor over the structure, depending on the conditions. Generally we move from wreck to wreck (most are close together), but as much as Captain Jason fishes he knows which ones are working. Anticipated catch includes a wide variety of fish including greater amberjack, large black grouper, barracuda, goliath grouper, African pompano and the always present shark. Usually big bulls, greater hammerheads and Caribbean reef sharks are the most common. However, you never know when that giant mako or dusky will swim up – so we are always ready. These are mostly large fish, so rest up for this trip!
The Florida Keys Barrier Reef Tract is the only living coral reef system in the U.S. and stretches from Key Largo to the Dry Tortugas, about 60 miles past Key West. It is home to thousands of species of marine life. Knowing which reef or reefs to fish is one of Captain Jason's specialties. The main targets are large "flag" yellowtail snappers, mutton and grey snappers, big red and black grouper, other fish, mackerel, jacks, bonito – the always present sharks are common. The sharks are big, bull, hammerhead, lemon, tiger, blacktip and nurse sharks. They can reach up to 500 lbs.! This is a high action trip for dinner species as well as trophy caliber fish. Captain Jason will give you a quick how-to lesson and then its all you! All advise is given in a good mannered way. You're here to have a good time — no yelling or stuff like that with Captain Jason! Just good fun for all.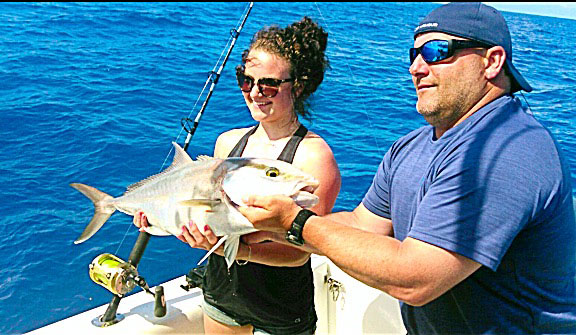 The Gulf of Mexico wrecks hold a large number of great table fare species , including  yellow tail, mangrove, big lane, red and mutton snapper. Black, red, and yellow mouth grouper. Goliath grouper are very common and average 200-500lbs. These are handled with care and released. Also, Cobia, African pompano and permit are frequently caught on these wrecks.  Barracudas, jacks and the ever present sharks are great sport fish and are released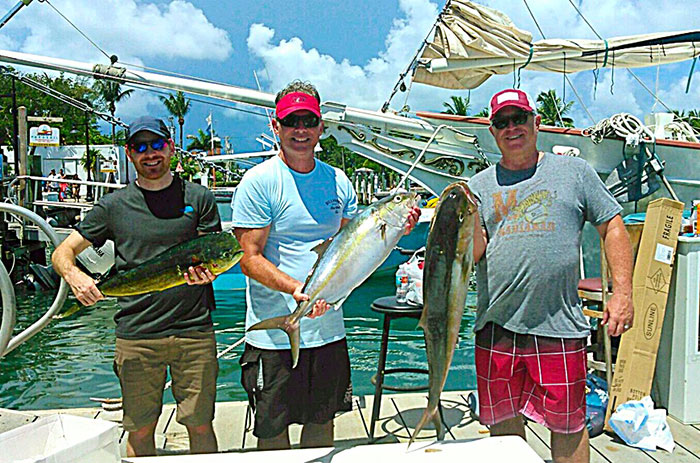 Key West pink shrimp are caught at night and the boats are at anchor all day. We follow the shrimp boats on our high def furono radar. We drive from boat to boat to see what's there. Sometimes it's the first boat you get to and sometimes you might have to look at a few to have good production. 
Fish included big black fin tuna ( world record was caught off a key west shrimp boat),Cobia up to 80lbs., barracudas, giant little tuny. These are fast fish that pull hard. Not uncommon to be taken around the boat multiple times on a single fish. 
Sharks are also very common around the shrimp boats,including sharp nose,blacktip,bull,hammer head and tiger sharks. Seaborn has landed bull over 500,hammerheads over 600 and tiger sharks upward of a1000 lbs. Be careful what you wish for!!!!  All sharks are promptly released after some quick pictures and video. 
At least 8 hours but preferably 10 hours are needed for the best experience. This is a long range trip and has a fuel charge,depending on distance. Rest up for this trip!!!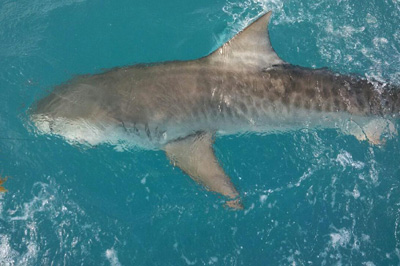 Captain Jason has been catching sharks in the Key West waters for over 30 years. Sharks can be caught in all depths and in all areas of Key West and the Florida keys. For some species we use 20 or 30 lb. spinning gear, and others may need 50 or 80 lb. gear to get em in. We catch lemon, hammerhead, blacktips, nurse and bull sharks in the back country (always calm), fishing channels that are carved through the flats. Watching a 200 lb. shark race across the flats in less than 2 ft. of water really gets your heart pumping! 20 or 30 lb. spinning gear is used in the back country, meaning Captain Jason will sometimes have to break anchor to chase your fish down. Very exciting! When moving out to the reef or deep wrecks and into the deep blue we use mostly 50 or 80 lb. gear for the monsters, sometimes fighting these bad boys for an hour or more. Giant hammerheads, monster bulls, world record size Caribbean reef, huge lemons (up to 10 ft.) and big tiger sharks are common. These sharks are at the top of the food chain and are very tough! It's not uncommon for anglers to switch off fighting one of these monster fish. Captain Jason is a member of the N.O.A.A. shark tagging program, so getting "your" name on a shark is always possible. Good luck!
OUR BOAT | Seaborn Charters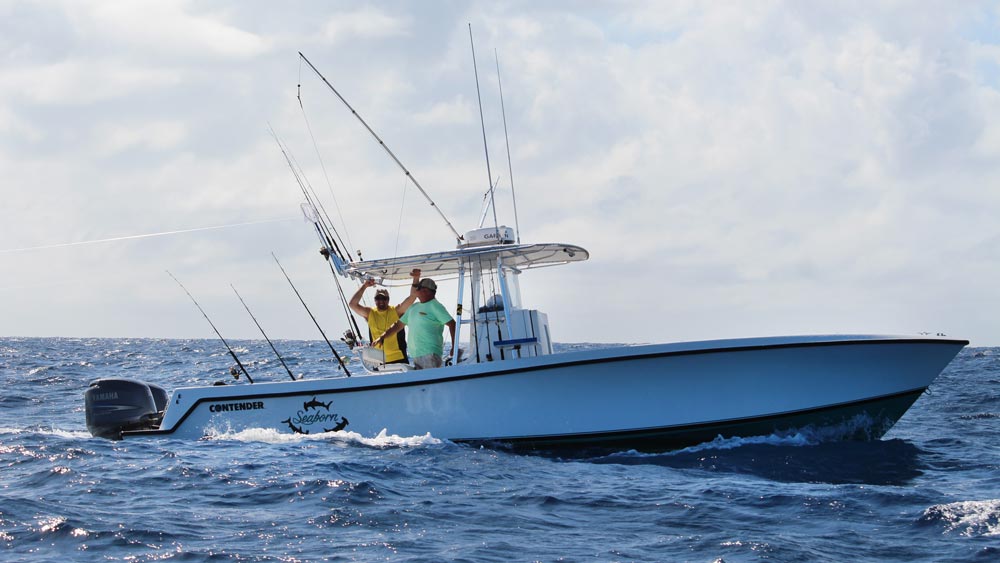 The Seaborn
The Seaborn is a 32 foot custom built contender center console. It has 600 h.p. and will get you to the fishing grounds fast and safe, which means more time with lines in the water. It features all the latest electronics including--
36 mile high def radar
fish finder
chirp sonar
xm stereo
Penn,, Diawa and Shimano reels on custom rods
depth sounder
2 live wells
out riggers
down rigger
auto pilot
auto stability trim control (for the smoothest ride)
The Seaborn goes above and beyond coastguard required safety equipment including the highest quality life jackets, flares, satellite phone, 6 person life raft and an epirb. Captain Jason has over 5000 days at sea and safety is priority #1. You are in good hands.
Charters include all licenses, bait, tackle, coolers with ice and bottled water. There is plenty room for dry storage and any snacks or beverages you want to bring. It is also recommended to bring sunblock -- and a camera for all the amazing photos you will take on your trip!
TESTIMONIALS
-- See what our clients are saying about us!
-- Seaborn Charters, Key West Fishing Charters
"Have fished with Capt. Jason for 20+ years now"
5 of 5 stars | Reviewed February 26, 2016 Just returned from my latest Key West trip to visit my parents. Have an awesome time fishing with Seaborn Charters and Capt. Jason for 2 days. We have fished with Jason for 20+ years - that has to tell you something. I have not met a harder working captain (and we've fished with a lot) in all my years of going to Key West. Capt. Jason works his butt off to have his clients busy reeling fish in; but best of all, he with listen to what his clients want to catch and work to make it happen. Can't say enough positive things about Seaborn Charter and Capt. Jason - there just isn't any better fishing experience in Key West!!!


"Fishing with Capt Jason of Seaborn Charters is awesome"
5 of 5 stars | Reviewed April 29, 2016 Fished with Capt Jason for nine days in April every day was awesome caught a ton of fish and lots of laughs this guy knows the waters and where the fish are book with Seaborn you can't go wrong.Ive fished with Jason for four years now and i will be fishing with him for many more this guy is awesome.


"Quick getaway"
5 of 5 stars | Reviewed May 22, 2016 Headed out on a 8 hr trip with Jesse offshore 25-28 miles. Could not have ask for a better captain or mate,great guy's. We were trolling hooked up with plenty of mahi and quite a few sightings of sails. The boats and equipment are top of the line. Will definitely be back to hook up on the winter bite.
"Once in a lifetime!"
5 of 5 stars | Reviewed January 31, 2016 My wife and I stumbled across Captain Jason at the marina one day of our vacation. We had a nice talk and got a good vibe, so we decided to book a 4 hour trip since he happened to have an opening. Little did we know that we were about to have an unforgettable experience! We caught tuna, amberjack, bonita, and a 6.5 foot bull shark! It was amazing! In addition to the fishing, we got the "eco-tour" on the way out and the backcountry tour on the way in. Been fishing for 30+ years, and this was possibly the best trip... We'll be coming back! Great person, unbelievable skills and wonderful boat/equipment.

DOCK LOCATION| Seaborn Charters
Our dock is located at SCHOONER WHARF BAR| 202 William Street - Key West, Florida 33040  http://www.schoonerwharf.com/
CONTACT| info
Email:captjbfishpro@yahoo.com